On April 24, many volunteers came out to several different sites in Grand Rapids, including Church of the Servant, to plant more than 100 trees. These trees are part of a larger effort to help clean up Plaster Creek, the most contaminated waterway in West Michigan.
In the video below, hear Dave Koetje, professor of biology at Calvin University and a member of the COS Creation Care Team, describe the project and its intended effects on Plaster Creek. Also, learn how this project fits with the concept of "refugia." We're thankful for the COS creation care team, Plaster Creek Stewards, and the many volunteers who came out to help clean up the watershed, increase the biodiversity in and around our property, and help beautify the neighborhood.
---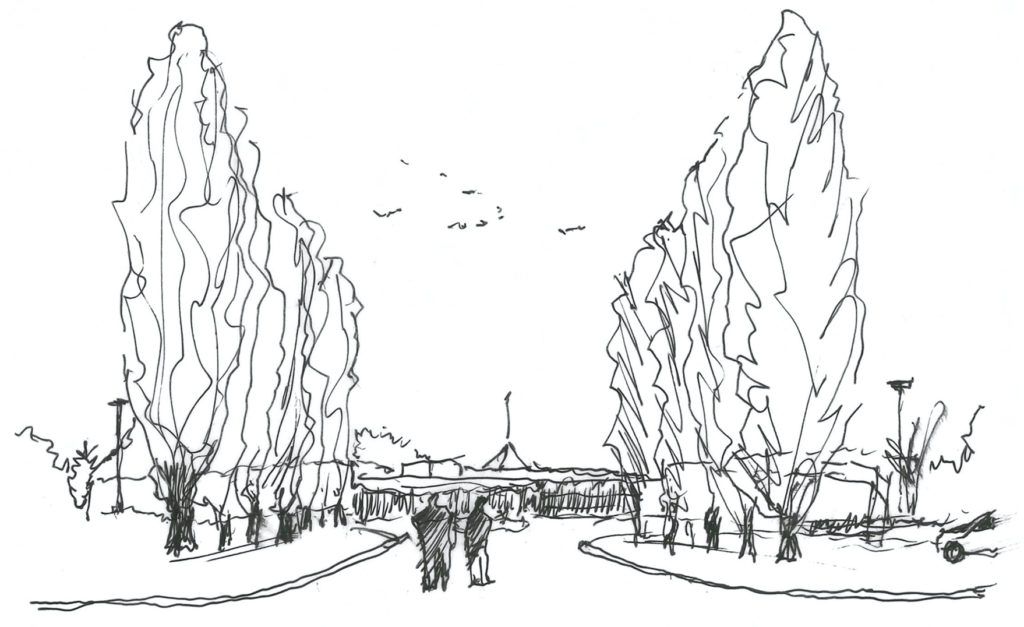 Future Project:
In the original planning for the COS Campus, our architect, Gunnar Birkerts, conceived a processional route starting at the east entry drive that sweeps into our site, aligns with the spire and cross above the sanctuary, and passes through an array of banner poles before arriving at the main door of the church. The processional route continues inside through the welcome area and sanctuary doors and down the aisle to the platform, table, and structural "tree," crowned by our glowing translucent skylight. Together, the Creation Care, Refugium, and Liturgical Art teams now propose replacing the banners and poles with rows of Eastern Red Cedar trees that will continue to grow with our church family and guide new generations to the Tree of Life. Eastern Red Cedars are native to West Michigan. They are hardy, salt-tolerant, and do well in all soils, so they are suitable for this particular location. They are very common in our area – we already have several growing on our property – so these new trees will be right at home. A processional route lined with everyday native trees reinforces and celebrates the underlying value of "dignifying the ordinary".