Are you learning English? The Basic English Service is for you.
All are welcome!
Basic English Service @ Church of the Servant
Church of the Servant is a diverse community of Christ's servants, a home for God's children, and a prism for God's light in liturgy and life.
As children of the light, we desire to
participate in worship that is Reformed and liturgical, historic and modern, local and global
prepare people for service by nurturing their gifts and encouraging them to grow in discipleship
create a fellowship where the burdened and suffering will find support and comfort, where the alienated will be accepted, and where those seeking God will be shown the way
present Christ to others by showing God's love in Jesus for the world and promoting justice and peace for our neighbors near and far
In obedience to this call, Church of the Servant offers a worship service in basic English. The Basic English Service is for all who come, especially those whose understanding of English prevents full participation in the larger worship service.
The BES enhances COS's call to:
reach out with love, encouragement, and fellowship to people of all cultures, faiths, and language groups;
nurture a sense of community and belonging for all;
embrace those not yet enfolded in Christ's family and invite them to confess Jesus Christ as Lord and Savior;
disciple all believers in the gospel;
create space for the gifts of the global Church to be mutually shared and appreciated across lines of language, ethnicity, culture, and status, thereby expressing the unity-in-diversity of the Church.
Revised, Epiphany 2017
---
---
Frequently Asked Questions

The Basic English Service (BES) began in April 2009 for English language learners. This includes New Americans who have arrived in the USA as refugees or asylum seekers. It also includes other internationals who have difficulty with English. BES is for anyone whose understanding of English prevents full participation in other worship services. Whether you are new to English or not, anyone is welcome!
Between 60 and 90 people typically attend each Sunday. Worshippers include New Americans and American-born folks; former refugees and asylum seekers; international college and seminary students; young children and retirees.
When and where does the service take place?
The service starts Sundays at 10:00am. We gather in Room 4 near the café. Another worship service happens at the same time in the large sanctuary. Both services last about an hour and a half.
We try to use simple English vocabulary and short sentences in BES. The service is relaxed and welcoming to all. We often begin by learning a new song. We don't use paper liturgies and hymnbooks. Instead we use a projector for the songs and liturgy. We use lots of images, including for the sermon. People share their joys and requests during the prayer time. We also celebrate communion together every Sunday. Every service ends with everyone joining in a circle to sing "My Friends, May You Grow in Grace."
What is the mission/purpose of the service?
Church of the Servant desires to welcome, enfold, and disciple people of all cultures and language groups. In order to serve those who find the terminology and liturgy of the COS to be a barrier to full participation, a service in basic English is provided, including audio-visual elements, participatory prayers, and music.
The purpose of the Basic English Service is to reach out with encouragement, fellowship and edification for all who attend, in order to express the unity of believers and to embrace those not yet enfolded in Christ's family. Through a variety of worship styles, art, and music, the worshippers are encouraged to believe, confess Christ as Savior and Lord, and become members of Christ's church.
International participants are primarily from Asia (e.g., Nepal, Sri Lanka, Indonesia, Iran, China) and Africa (e.g., South Sudan, Liberia, DR Congo, Rwanda, Zimbabwe). People of all ages come.
What is the relationship between this group and the larger COS body?
BES is a worshipping fellowship within the COS congregation. While smaller and less formal, BES is in many ways patterned after the larger service. Bimonthly combined services, shared celebrations for holy day baptisms, and professions of faith help unite the entire congregation. Personal relationships between BES and the larger congregation are vital to our unity in Christ.
Is there fellowship that extends beyond this service?
There is a lunch after worship on the first Sunday of every month (Sept. – May). BES also has occasional gatherings for fellowship. An ongoing Bible study class known as "Our Faith" meets Sundays at 10:00am. This class invites participants to explore the Bible together. We read carefully, ask questions, and discuss.
Yes! BES depends on volunteer leadership. We welcome volunteer worship leaders, preachers, artists, and musicians. Please contact Rev. Andrew Mead for more information.
The BES Committee includes lay leaders from BES. Our current committee is Helen Boezelaar, Delphine Dukundane, Nola Galluch, Zara Ghashghaeegarpaji, Barbara Hampton, Coni Huisman, John Lee, Sarinah Lo, Sepa
Nashale
, Liju Philip,
Buddi
Subba, Joel Westmaas (chair). Various volunteers share the responsibility for coordinating and leading the service.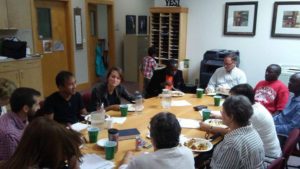 How Can I Stay Up-To-Date with BES?
The best way to stay connected to the BES service is to join us for worship on Sunday mornings at 10 am. You can also find information on our
Facebook Page
or sign up for our
Text Message Alerts
to get important updates and information about our church family.