November 18 – December 29
Double Match Day: December 7
Church of the Servant is proud to once again partner with the Meijer Simply Give campaign. Every $10 Simply Give donation card purchased at the Cascade Meijer is converted into gift cards that COS uses to stock and replenish our neighborhood food pantry throughout the year. Last year, your donations provided $25,000 for our food pantry and were part of the $42 million raised by the Simply Give campaign across the Midwest since 2008. The Winter Campaign runs from November 18 through December 29, so be sure to make your donations during this time.
Want the most bang for your buck? The campaign features Double Match Day on December 7. This means that for every $10 donation card purchased, Meijer will give $20 to our food pantry, resulting in a $30 total donation.
This year Ellen Westrate will be taking monies from those who cannot easily go to the Cascade Meijer and will be purchasing these cards on your behalf on Dec 7 Double Match day. Please give your name and money in an envelope to Ellen by Dec 5. It is our hope and goal this year to surpass the $25,000 COS received from Cascade Meijer for our food pantry which feeds over 100 families a month. Thank you for participating in this partnership with Meijer! Card stands are the back of the large sanctuary and on the Café counter.
---
How do you donate? Here's a step-by-step guide:
Step 1
Pick up a Simply Give donation card from COS. They look like this: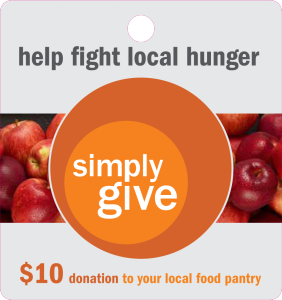 Can't pick one up from COS in time? Each checkout line at the Cascade Meijer has donation cards. You don't need to specify which food pantry to support: any donation card purchased at the Cascade Meijer will benefit the COS Food Pantry
Step 2
Shop at the Cascade Meijer on 28th Street. Be sure to add your $10 donation card to your purchase. Your donation will be given to COS for our Food Pantry.
Step 3
Save your receipt. Donations made to the Meijer Simply Give campaign are tax deductible.
Step 4
Don't keep it a secret. Encourage friends, family, and neighbors to add a $10 donation to their Meijer purchase. Post this page to social media to remind others to support the COS food Pantry and the Meijer Simply Give campaign.
Step 5
Don't forget about the Double Match Days. If you shop at Cascade Meijer December 7, your donation will be matched double by Meijer. That means every $10 donation will result in a $30 donation to the COS food pantry. Encourage friends, family, neighbors, and coworkers to shop at Meijer on Double Match Days December 7.
Questions? Contact Dave Hartwell dave.hartwell@coscrc.org