Our day began with breakfast and a morning trip to Manitou Springs. Despite the colder weather and overcast skies we had a blast walking around the quaint mountain town. We enjoyed the eclectic shops, tasty treats, and beautiful scenery of the historic downtown, and even got to spend some time playing in a local park. We made a quick drive through Old Colorado City before heading back to camp in time for lunch.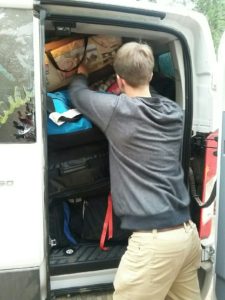 After lunch we enjoyed some free time that involved some biking, volleyball, and horseback riding. A few of us even got a jump start on our packing. After dinner we loaded our luggage into our van. Somehow, packing for the return trip is never is easy packing for the arrival. Nevertheless, we fit everything in. Now the vans are loaded and ready for a very early (5:30 am start tomorrow).
This will remain a short blog post as we're all trying to get to bed at a reasonable hour. We all have a sneaking suspicion that 5:30 will sneak up on us pretty fast, and we need our drivers to be well rested. Please continue to keep our group in your prayers. Pray for a smooth departure, safe travels, and good spirits on the road. Pray also that the events of the week, the lessons learned, and the friendships made carry on upon our return. We ask that the Lord continue to bless us and to use this faith adventure to strengthen our relationship with him.
Highlights:
The cool shops in Manitou Springs
The beautiful image of fog hanging just under Pikes Peak
Getting another day to play in Colorado