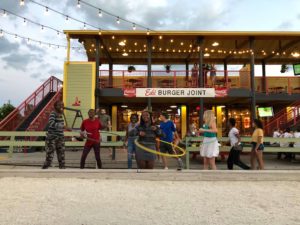 Last night we went to Ed's Burgers for a milkshake run. Our crew enjoyed the shakes as well as the games on the patio. We hula-hooped, played Jenga and ping pong, and danced in the warm Mississippi evening.
This morning, we ate breakfast together and loaded our vans. We all realize that we have only one more day at our job sites, and we want to get a lot done. Today was a good work day at both sites. We got several rooms floored and put more siding up on the outside of one of the houses. We returned home at the end of the workday to some much-needed showers.
Our group then made its way to Paul B. Johnson State Park where we could swim and play in a splash pad. The lake's water provided a lot of fun, but not much in the way of refreshment–it was nearly as hot as the air above it. Those that stayed behind showed up at the park later with pizza for dinner. We enjoyed our food by the lake as the sun began to set.
Now we're all getting ready for bed as we prepare for our final day of work. Our plan is to work at the job sites for half the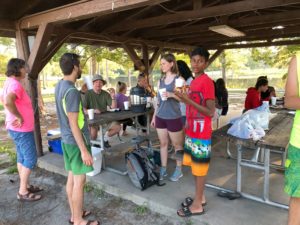 day, come home to shower, and then drive to Gulfport to swim at the beach.
Thank you for following along with our work trip, and thank you for holding our group in your prayers.