Another great day in Mississippi, despite the heat.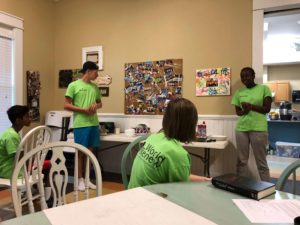 We began our day with a delicious breakfast prepared by members of our team. We then loaded our vans and headed out to our work sites. We continued our painting at both sites, and even put up siding outside the house. Our two crews came back together for lunch to eat together and compare notes from the morning.
We returned to our sites and continued working in the afternoon. Our work got called off early, however, in response to a heat advisory that was issued in the area. Fortunately, we were at good stopping points for the day. We decided that tomorrow we would start our day earlier to get more of our work done in the cooler morning hours.
We returned to the volunteer house to get cleaned up and relax a little before dinner (Taco Tuesday!). Following dinner, Pastor Andrew led us in devotions. Together, we read through Isaiah 58. After reading and reflecting, we shared with each other what we noticed or wondered about the passage. One verse that stood out:
Your people will rebuild the ancient ruins
and will raise up the age-old foundations;
you will be called Repairer of Broken Walls,
Restorer of Streets with Dwellings.
Thank you for your continued prayers and support of our Intergenerational Work Trip. Keep checking here for updates. And check out a video of us from the local news!