This month's profile features Cele Mereness.
Interviewer: Welcome, Cele! You have been involved with prayer at COS for many years. Can you tell us about some of the ways you have been praying for COS?
Cele: Well, I haven't been doing it for many years because I have a new neighbor who has really gotten me into prayer. She goes to Madison Square Church. She has told me everything they have been doing in prayer at Madison which is a lot! And everything that she told me, I have tried at COS.
Interviewer: Tell me some of the specifics.
Cele: The first thing I have done is to pray before church for an hour on Sunday morning in every room. I pray for the people who are going to be in that room, for what is going to happen in that room, that God's presence will be seen in that room. For instance, I pray in every child's Sunday school room and I pray that the children will have the joy of the Lord in their learning, that they will want to learn. And I pray for the leaders, that will make the children want to learn and will have joy in their hearts that will communicate to the children. I have also worked with children's worship for many years. I started it in our denomination. I am very excited about what that program is doing for little children. So, I pray that they may be in touch with the Lord through that program. I pray for the youth, for the high schoolers, for the junior high kids. If there are any kids in the room, I go in and pray with them. I pray for BES. There are usually musicians there when I come, so I pray with them. I pray that whether people understand the words or not, they will feel blessed. I then go over to the big sanctuary and pray for everyone that will come into that sanctuary. I go over to the chapel and pray for the leadership, the liturgists, the intercessory prayers, the council representative, that they will be led by the Lord. And of course, I pray for Karen and Andrew every weekend, and I pray for them every day. I pray that the musicians will transform our congregation, that they will make a difference in the ways we praise the Lord. I pray for the dancers that they will do the same, that thy will not look at each other but up to the Lord and communicate with the Lord while they are dancing. I pray for those that are bringing the communion that they will be blessed by what they are doing. I pray for the nursery, that Jana will do a good job administering the ministry of our church and that the people who come – the adults –will be happy people, and that they will make an atmosphere where the children will feel blessed and calm and that there will be an atmosphere of the Lord's presence in that room. I pray for each child too, that they will be blessed by being there. Then I go in the back where all the staff offices are, and I pray for every staff person. If I know of a special need I pray for that and if not, I pray for the staff in general. Then I go and pray for Ellen and Heather and Kenny – I always pray for them. And for the coffee hour, that everyone there will be blessed.
Interviewer: I had nursery duty a week ago Sunday and the atmosphere in the nursery was exactly what you just described – we had eight children and three adults and those children were happy and content, there was nobody fussing and crying. The parents seemed quite joyful to drop their children off – and to pick them up again! There was just an atmosphere of warmth. I've been there other times, and this was different.
Cele: Good. I know the Lord hears me and I know my prayers have made a difference. And then at 9:30, I go with a group and pray for fifteen minutes for the pastors. Karen and Andrew are there. Karen asked for this because they had this in her church in Ireland. So, we are doing it here. Andrew and I have prayed together for a long time before church and now we all pray together. So that's my prayer on Sunday morning. During the week, I have started a healing prayer team that meets every other week. There are about 7 or 8 of us who get together.
Interviewer: Are all of them COS members?
Cele: Yes, all COS members. This started with Carol Burge. I met her at coffee, and she said she was new to the church but that she was very interested in prayer. And I said, "Oh, I am too!" So, we started this group together. We call it the healing prayer team. We have invited the pastors to come and join us for a meeting in November. We tell them what happens every time we meet. Some of us are now praying for people outside the group as well. We are learning a method of prayer called Emmanuel prayer.
Interviewer: I'm not familiar with that.
Cele: It's where you bring matters to the Lord and ask what God would have you do. So we listen. And the Lord always speaks, always tells us what we should do. We learned that from Chris Hanak; she is in the group too. That is a wonderfully enhancing group for me; I am growing in it. The last thing I do is that Jeanette Sprik and I have made a list of all the organizations on the church and we have found someone to pray for each organization who is not part of the organization. And now we are going through that list again. We started it last year and we are going to continue this year either with the same people or new people.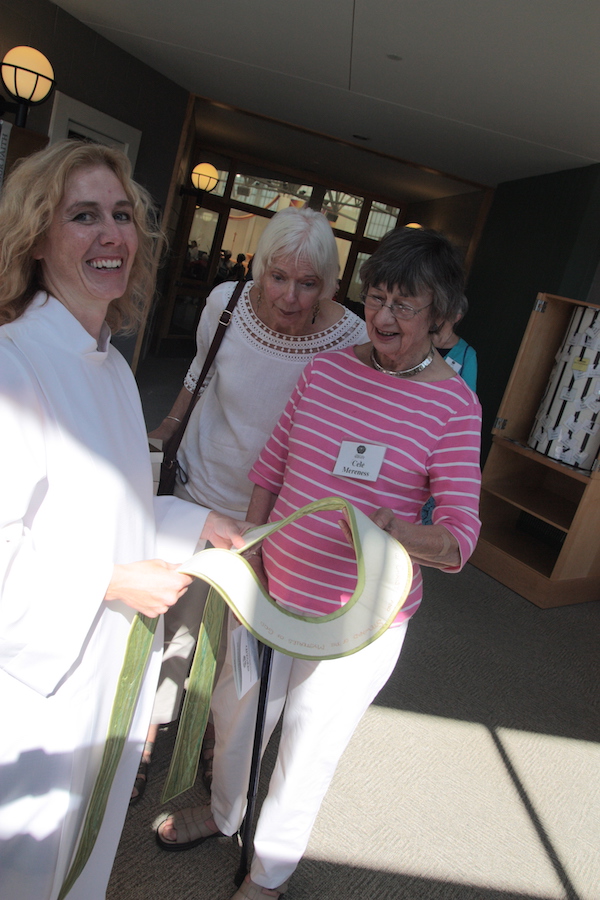 Interviewer: I'm sure that your prayer life involves more than just these organized prayer times, right?
Cele: Yes, of course.
Interviewer: Can you tell us a bit about that too?
Cele: You mean at home?
Interviewer: At home or wherever. Other ways you pray.
Cele: If I meet someone at church on Sunday morning, I pray for them. If I am going from one room to another and I meet somebody, I just offer to pray for them. If I see something like adult Sunday school going on, I pray for it. Sometimes I would like to go to that group, but I feel my prayer is more needful. Whenever I see a fire truck, I always pray for those experiencing a fire and those fighting it. I learned that from a Catholic nun. Every morning I pray for my whole family. I pray for their salvation every morning because there are people who do not know the Lord in my family. I also pray for people in the church I know and people in the community. The list gets longer all the time!
Interviewer: Do you keep a written list of people to pray for?
Cele: No, I don't. I just pray as the Lord leads every day.
Interviewer: You said you haven't been doing this for a real long time. Tell me more about how you got started. You mentioned your neighbor.
Cele: Well, I 've been praying myself for a long, long time. But I haven't prayed in the church until recently. Except for praying with Andrew. I have done that ever since he came. And he prays for me too. But getting more prayer in all these organizations really started from my neighbor. She has taught me and talked with me. Whenever I have a need she comes over and prays with me.
Interviewer: Do you ever get discouraged?
Cele: Hardly ever. I just have the type of personality that hardly ever gets down.
Interviewer: That's a blessing.
Cele: It is. And now I have a lot to be depressed about with my body that's not serving me well. But I'm not. I just think of the good things – that I can walk, that I can talk, that I can see – those are wonderful gifts. And the Lord have given me two daughters that love me. I am so blessed.
Interviewer: You can't read now, can you?
Cele: No.
Interviewer: That has to be a loss.
Cele: A very big loss. If I have a magnifying glass, I can read. But I know God loves me. Right now, I am looking to him to lead me into a new ministry. My brother occupied most of my time for five years, but he isn't in my life anymore. So, I need something that will be a ministry of some kind. And I am just waiting on the Lord.
Interviewer: I will pray that you find it!
Cele: I have to tell you a story. When I was thirteen, at church camp, I gave my life to the Lord and I told him that I wanted to work for him full-time. I had no idea what full-time Christian service was! But ever since then, God has helped me do that.
Interviewer: Interesting.
Cele: I've been thinking about this recently. My whole life has been full-time Christian service. I taught in a Christian school for a few years. I directed Calvinettes for the denomination for eight years. I started a training program for Sunday school teachers; I started training for children's worship leaders. I started the friendship program. And since I retired, the Lord has just brought one thing after another. Refugees has been one.
Interviewer: How do you see that COS could grow in its prayer life?
Cele: Oh boy. I would like us to be known as a praying church. But I don't know quite how to advance that right now. Madison is known as a praying church. They have people in charge of prayer, which we don't. I would like to see a prayer committee. I would like some help developing prayer at COS. I don't think I can do it by myself.
Interviewer: Is there anything else related to prayer at COS that you would like to comment on?
Cele: Our refugees. They are so wonderful. They have been so good to me since my accident. One Sunday, I had nine of them here bringing fruit and nuts. Then after they left my Vietnamese friends brought me a meal. I have known this family for over twenty years, and I visited them when they didn't come to our church any more. They came for awhile and always sat in the back. Then they stopped coming. So, I went to visit them. The woman told me that she had lost her mother and father in the war and asked if I could be her mother. I said sure and that has been so rewarding! We spend Mother's Day and Father's Day together, Christmas, all the kids' birthdays. I'm a grandma to the kids. Their oldest daughter is 23 and in her last year of graduate school at UM. Mom and dad are really smart too, but they didn't have a chance. So, their daughter comes to my home every time she is here, and we pray together. When I went to one of the Sri Lankan's house the first time, I asked if they would be willing to pray with me. And they got on their knees and we held hands and prayed. And when we were finished, the woman said to her husband, "This is my mom." I'm not sure who they prayed to, but they were used to praying and hadn't been doing it here. And then I led a bible study for a year or two.
Interviewer: Anything else?
Cele: I have a dream and that is that we could have a 24-hour prayer room that people could access at any time. It would be open to the outside but not to the inside. I talked with Karen about this – they had this at her church in Ireland. Maybe if we put this idea in this story someone can investigate it!
Interviewer: Thank you, Cele.
This interview was conducted by Jim Bradley on Tuesday, October 15, 2019.