This month's profile features Brian Leahy.
Interviewer: Welcome, Brian! You are the middle school ministry coordinator at COS, aren't you?
Brian: Yes, I am. That's the seventh and eighth graders.
Interviewer: You lead Wednesday Night Live. What does that entail?
Brian: It is our opportunity to take the middle school students on Wednesday evening and expose them to the Heidelberg catechism. We have turned that into a two-year teaching program so that by the time the students graduate, they have journeyed through all 52 Lord's Days. We work with the students for about an hour and a half on Wednesday evening. We don't spend the entire time on the catechism.
Interviewer: Really!
Brian: (Laughs) I would love to. But we mix in fellowship opportunities so that the students get to know each other better and become "one" group. It used to be that most of the middle school students went to school in the same building. Now families are spread out over many school districts, partly due, perhaps, to the arrival of families from other countries. Part of the evening is spent working together with the students in small groups. We also mix in games and other fellowship activities; sometimes we have a movie night. Once a month we have activities like going sledding at Pando or going bowling. We try to mix in a lot of things.
Interviewer: Who are your co-leaders?
Brian: Tracy Gebbia, Dave Campbell who joined us last year, Rachel Laughlin was with us a long time. Jennifer Van Dyke helps out, and, of course, Annette Ediger. Part of trying to integrate the youth into the overall church body is that we allow two or three high schoolers to help out. They seem to like it and are certainly a great help.
Interviewer: So, you have kids from a lot of different schools. Some are from Christian schools and some from public schools.
Brian: That is correct.
Interviewer: That makes a difference in what you do, doesn't it?
Brian: Yeah, I think it does. But they don't come with a lot of baggage such as, "Oh, we studied that already." Or "So and so is teaching us this." We don't get a lot of that. They are just happy to be outside of school! I don't find the difference in schools to be much of a challenge. In fact, 'challenge' is the wrong word. Maybe 'opportunity' is a better word. Right now, we have 37 seventh and eighth graders registered.
Interviewer: That's incredible.
Brian: I think that's more than we've ever had. What we have seen in the last couple of years is the explosive growth of the BES program, especially among the youth. One challenge we have is to be sure that we are culturally inviting. And that's an opportunity. It's not so much that this set of kids are going to secular schools and this other set are going to Christian schools, but that we have kids coming from all over the world right now, which is fantastic. What is great is that among the kids, you don't see a lot of strife between them because this person is from this country or of that skin color. We don't see prejudice. Which is in itself fantastic.
Interviewer: What do you do to make it more inviting and more welcoming?
Brian: One thing we want to make sure is that these kids are grounded in God's word. That's the whole point of doing the catechism. It's partly to know what the CRC is but it's mostly getting them to know what's in God's word, so they can apply that to their own lives. When we split into small groups, we try to make sure that we integrate it well. We don't want a BES group and a non-BES group or anything like that. One thing we are talking about this year is modifying the music. We usually use the last five or ten minutes of each class as a worship moment. Sometimes it's a brief story. Most of the time we take one of the hymns that we are used to doing here at church and do that together as a group. We try to be sure it fits everybody, and we are not just using 16th century German hymns. Dave Campbell helps a lot with this because he is so musically gifted.
Interviewer: One of the issues that BES is wrestling with right now is language. This is a question with the Swahili speakers who do not understand much English. Do they want a separate service? How should they proceed? Do you folks struggle with the language issue too?
Brian: Yeah. But it's probably less among the kids than it is among the parents. The kids just absorb everything. So, for most of them you couldn't even tell that they come from another country. But that's not all of them. We do have some who don't know English well and that's been a challenge. That especially comes up with teaching a Sunday school class for middle schoolers. We typically have more BES students on Sunday morning than on Wednesday and I haven't figured out yet how to overcome that except not to be in too big a hurry and stick with key concepts. We usually don't make the teaching purely language based. Rather, we mix in pictures, video, activities, etc. to get the teaching across. Kids also seem to tie around music pretty well.
Interviewer: I suggest you sign up for Swahili classes.
Brian: I've thought about that! At least I could get a rudimentary knowledge.
Interviewer: So, tell me, how did you get started working with kids?
Brian: There were two paths. In 1996, I got involved with being a children's leader with Bible Study Fellowship. I served 18 years as a children's leader which gave me great tools for how to study scripture and how to prepare lessons. It was fantastic. But at COS , about 15 years ago I felt led to volunteer to work with the youth in our own congregation. For various reasons, COS has seen a fair turnover of youth ministers (5 or 6 since I've begun working with the youth). Trent really got the Wednesday Night Live program going. For such a young guy, I learned a lot from him. When he moved on, Annette asked if I would take over and I have been doing it ever since and have thoroughly enjoyed it. Then three years ago Annette asked if I wanted to be middle school coordinator. I said, "If you want to give me a title, go ahead. But I'll keep doing what I've been doing." And I've certainly enjoyed it – its been a wonderful experience.
Interviewer: I was going to ask you what keeps you going, but I think you have already answered it.
Brian: Yeah, it's the kids.  You can't be with those kids and not be energized from it.  They are at that age in middle school where they are not jaded; they are not world-weary.  There is still so much for them to absorb.  They are still trying to figure out who they are in Jesus Christ.  What we try in the middle school program is to expose them to that love through the leaders, how we treat them, and through a number of activities.  And we try to get them grounded in God's word.  They are bombarded with so much now.  When we were young, we did not have to deal with social media.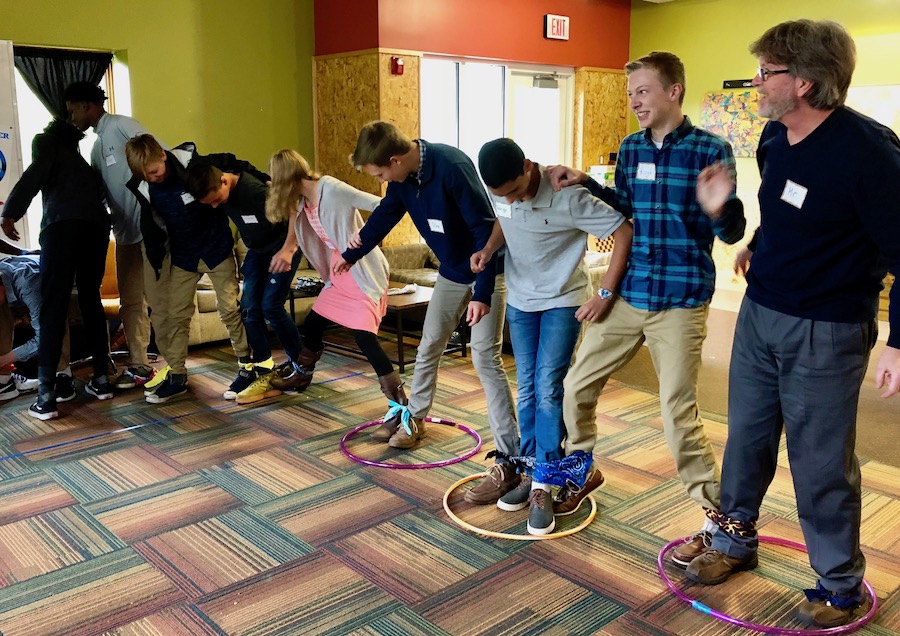 Interviewer: We had television and that was it.
Brian: We had Walter Cronkite and he was even going to make Vietnam sound not too bad. Now it's a 24/7 news feed and most of these kids have cell phones and they are getting it constantly. It's depressing for me to look at the news. I can't imagine what it's like for these kids who can't filter it through a more mature Christian world view yet. That's what's on my heart. I want to be sure these kids are grounded in God's word so that they have that to fall back on when they get hit by all this other stuff. That keeps me going. My colleagues in the youth program also keep me going. Going back in my own history, my parents were divorced when I was young, so my father and mother were living in separate towns. I was splitting time with both parents and there were a lot of adults who came along who helped raise me during that time including grandmothers. I do believe it takes a village to raise a child. And even the kids who are getting great parenting – and most of them are – there is still the coach or the music teacher or the math teacher you appreciate. I want them to have leaders here in this church they know they can count on to have their back.
Interviewer: It sounds like the concepts from Sticky Faith, right?
Brian: Oh, very much. I keep Sticky Faith on my shelf right next to my bible. It's a wonderful book. Also Growing Young. Those are the two books.
Interviewer: Do you have any favorite stories or anecdotes you can relate from working with the kids?
Brian: It's not so much a story but when you've been around them long enough, you really see their personalities. You will see at different times how different kids shine. One time we were listening to some music and Elysee just breaks out and starts busting all these moves on the floor. We just backed up and watched him go. It was like John Travolta in Saturday Night Fever. It was great. All these kids are great. They have wonderful personalities. We rarely have any serious discipline problems here right now. (Knocks on wood.)
Interviewer: Unlike boys' and girls' club, you are a ministry where the boys and girls are together. How does that work? Is that an issue at all?
Brian: It really hasn't been a problem. One thing we do in the first fifteen minutes every Wednesday night is have free time. So, there's a foosball table, a pool table, there are snacks out. So there's lots of opportunity for kids to mingle.
Interviewer: Is there anything else you would like people to know about the middle school ministry?
Brian: One thing we try to convince these kids is that it's not that they are going to be a vital member of the church but that they already are a vital member of the church. We try to make them aware not just that God loves them or is smiling on them but that he is making them a vital part of this particular congregation and the overall congregation of God's people as well. They carry the light in them. COS has been more proactive about the over the last couple of years in taking an intergenerational approach with the students and I think it is working. It is wonderful to see the kids when they participate in the worship service or take part in other things around church. So, my advice to the congregation is to get to know these kids. The congregation will be amazed by the gifts these kids bring to the church body.
Interviewer: For me one of the joys of being here at COS is seeing the active participation of young people in worship including at BES.
Brian: Oh, for sure! The singing is wonderful. The BES has brought new energy to this church. It's almost like, "How do we contain the energy?" It has just energized this church. I don't think we ever expected that this is where it would take us, and we don't have any idea yet where we will go. But it's going to be amazing.
Interviewer: We started out to do something for the immigrants. They are doing a lot more for us!
Brian: That's exactly right. It's like "a child shall lead them." They are the folks that will lead this church where it is going.
Interviewer: Well Brian, that's it! This has been wonderful. Thanks so much!
This interview was conducted by Jim Bradley on Tuesday, September 24, 2019.