Save the date for our big weekend of welcome, September 8-9. Plans are underway for a COS-wide welcome party on Saturday, Sept. 8, on the church grounds. It will take place in the afternoon and evening and will include an all-church evening meal, probably outdoors. There will be a variety of fun activities for everyone! People can come for any or all of the activities. More info will come later. The important part for now is for folks to mark their calendars!
COS will welcome and install Karen Campbell and Andrew Mead as our co-pastors at a 10 a.m. installation service on Sunday, Sept. 9. This will be a prism service, involving both our BES and SES worshippers, with Rev. Len Vander Zee preaching. The celebration will continue after the service with food and drink.
---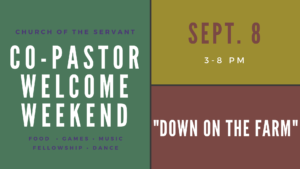 ---
Join us on Saturday, September 8, for a party welcoming the Campbell and Mead families into the life and ministry of Church of the Servant.

In honor of Andrew Mead's Iowa roots and Karen Campbell's transplant from sheep-covered hills in Northern Ireland, our party theme on Saturday is "Down on the Farm". This "old-fashioned" welcome will include food, fun, games, and square-dancing for all ages. Everyone is welcome!
Festivities begin at 3 pm at Church of the Servant. We will also have softball and other activities at Gainey Fields from 1-3. We are looking for volunteers to help lead these games.
And be sure to invite others!
Want to sign up to help? Use this signup link: https://www.signupgenius.com/go/10c0d44aaad2fa6f58-copastor